Kindle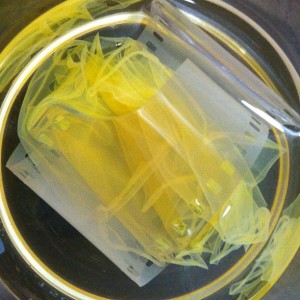 MattAttackPro is a chemistry and physics teacher in South Carolina. This is what happened when he dropped a roll of unused camera film into a container of hydrochloric acid.
What you're seeing is the plastic backing separating from the "film" from which film takes its name—a coating of multiple layers of light-sensitive salts suspended in gelatin. Yes, film is like a jello salad. And it makes for a beautiful photograph.
Maggie Koerth-Baker is the science editor at BoingBoing.net. She writes a monthly column for The New York Times Magazine and is the author of Before the Lights Go Out
, a book about electricity, infrastructure, and the future of energy. You can find Maggie on Twitter and Facebook.
Maggie goes places and talks to people. Find out where she'll be speaking next.
More at Boing Boing