Kindle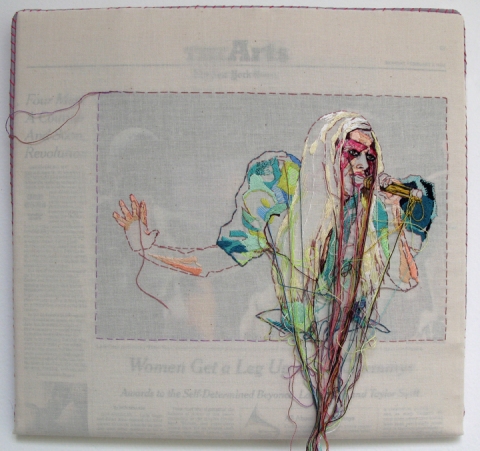 Via MyModernMet, the work of California-based multimedia artist Lauren DiCioccio, whose "Sewn News" series features hand-embroidered imagery seen in back issues of The New York Times. Above, Lady Gaga in the The Arts section. "I describe the beauty of the ritual experience of newspaper-reading by describing the paper as a tactile and fragile object in the language of craft," says DiCioccio.
Each piece includes a full issue of The New York Times wrapped in cotton muslin. One selected image is then hand-embroidered on the front of the fabric, where details are not exact and layers of colorful thread mix together and hang from the cotton in messy waves.
More at MyModernMet, and here is the artist's website.
Boing Boing editor/partner and tech culture journalist Xeni Jardin hosts and produces Boing Boing's in-flight TV channel on Virgin America airlines (#10 on the dial), and writes about living with breast cancer. Diagnosed in 2011. @xeni on Twitter. email: xeni@boingboing.net.
More at Boing Boing