Kindle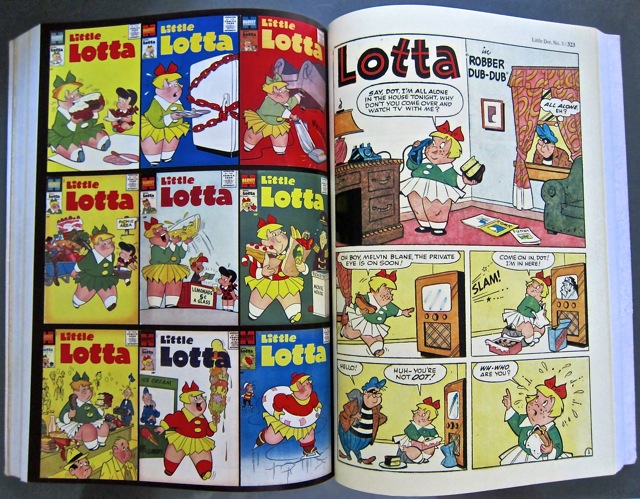 Little Dot is about 9 years old and, like artist Yayoi Kusama, she is obsessed with dots and paints them on every surface within reach of her brush or pencil. Little Lotta is an insatiable trencherman who is unaware of her superhuman strength. Little Audrey is a blithe dilettante who casually outperforms adults of all professions. All three fiercely independent girls had their very own comic books in the 1950s and 1960s. I read many stories starring Audrey, Dot, and Lotta as a youngster, and I was delighted when Dark Horse reprinted the best of these comics in a giant, brick-heavy anthology called The Harvey Girls: Little Audrey, Little Dot, and Little Lotta a couple of years ago.
My 9-year-old daughter can't get enough of this book. She has read it over and over again. The only part she skips is the informative introduction by cartoon historian Jerry Beck, which I greatly enjoyed. It was fun learning about the writers and artists behind these books. Harvey's house style (they also did Casper and Richie Rich) is deeply weird, but also slick and appealing. These guys were master draftsmen who cared a great deal about the quality of their work, and I can easily spend hours poring over the pages of this book.
After the jump: a couple of spreads from the book (it's mostly black and white, but there are about 80 pages in color).
Buy The Harvey Girls: Little Audrey, Little Dot, and Little Lotta on Amazon