Unknown Fields (UF) is a design studio, originating in London's Architectural Association, that "ventures out on annual expeditions to the ends of the earth exploring unreal and forgotten landscapes, alien terrains and obsolete ecologies." Right now, Mark Pilkington, author of Mirage Men and publisher of Strange Attractor, is leading this busload of architects, writers, filmmakers and artists in an exploration of the mythic landscape of the American Southwest, and the stories that it has inspired. Their trajectory takes them from Kirtland Air Force Base in Albuquerque New Mexico to Black Rock City, Nevada, via sites of military, architectural and folkloric significance. Mark is sending us occasional postcards from the edge. - David Pescovitz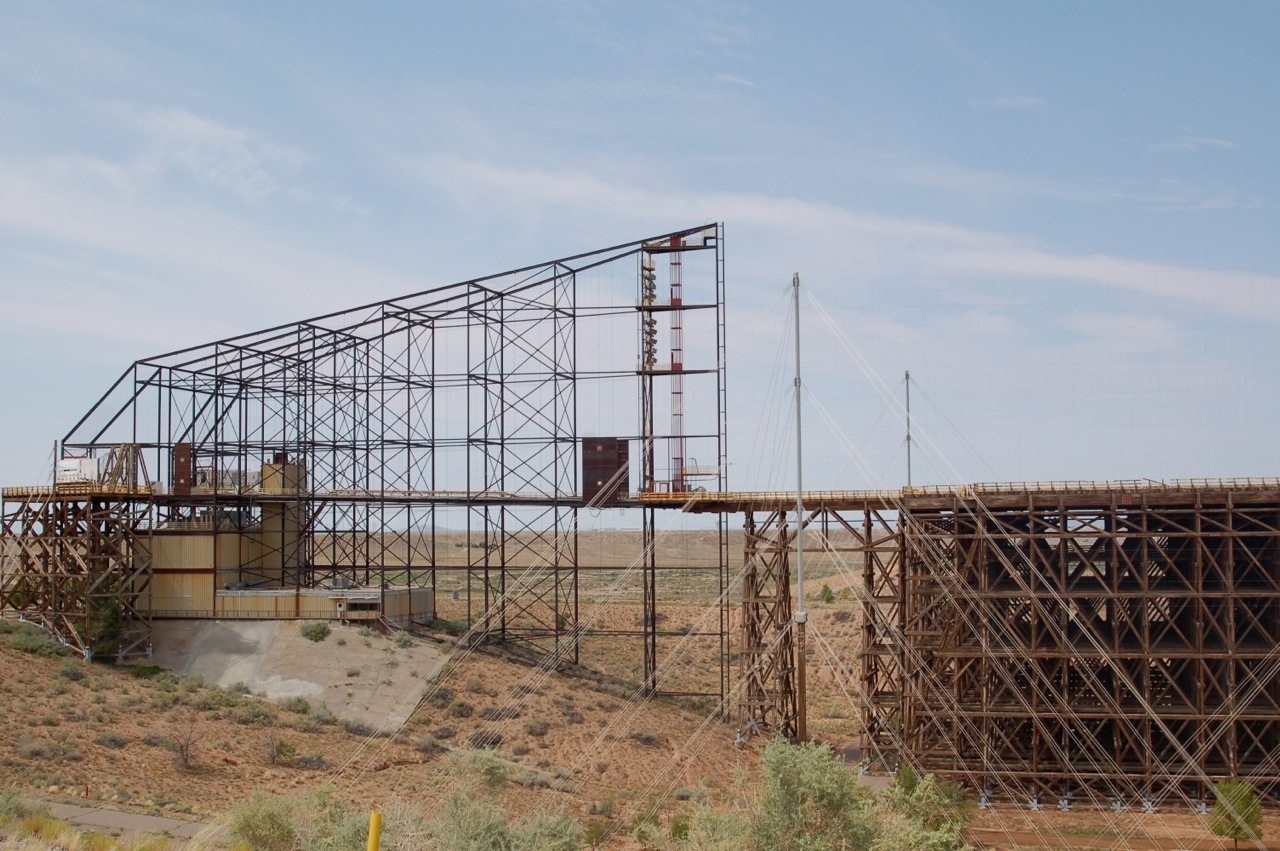 The Trestle, Kirtland Air Force Base, Albuquerque, New Mexico.
Constructed over four years in the late 1950s at a then-astronomical cost of $58 million, the Trestle is still the largest all-wooden structure in the world, comprising over 6 million feet of timber. Part of the Air Force's research into the after effects of a nuclear blast, a range of aircraft, including huge B-52 bombers and Air Force One were hauled up onto the Trestle, where they would be bombarded with electromagnetic pulse waves (EMP) fired from an emitter on either side.
EMP waves travel long distances in a very short amount of time and can seriously disrupt electronic systems, as we also know from powerful solar emissions. Understanding how EMP might affect the functioning of retaliatory nukes, bombers or command and control aircraft was therefore an essential part of post-apocalyptic preparations.
Every element of the Trestle, right down to its oversized nuts and bolts, had to be wooden so that none of its own components would interfere with the effects of the EMP wave on the aircraft being tested (though apparently there are some small metal o-ring components deep in the mix). Inspecting all the joints took a dedicated team a whole year; as soon as they had finished it was time to start again.
A unique monument to Cold War rigor and ingenuity, reminiscent of a huge fairground ride, perhaps the Cyclone, Coney Island's wooden roller coaster, or a wooden labyrinth, the Trestle is now a condemned structure, too unstable to use, too expensive to dismantle. Today it provides a home to local wildlife, including a colony of great horned owls who can be heard screeching from within its depths. Our guide tells us that she likes to collect the skulls of their prey, which they leave scattered around the base of the structure. Discuss
Next post