Kindle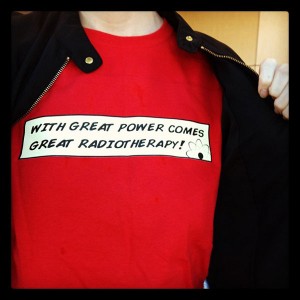 Science blogger Ed Yong whipped up this awesome graphic and made me a one-off tshirt to wear to radiation treatment for breast cancer.
Cancer patients, radiation oncologists, radiation therapists, and the people who love them all can make their own t-shirts and stickers with the JPEG if you are so inclined!
Thanks, Ed!

Boing Boing editor/partner and tech culture journalist Xeni Jardin hosts and produces Boing Boing's in-flight TV channel on Virgin America airlines (#10 on the dial), and writes about living with breast cancer. Diagnosed in 2011. @xeni on Twitter. email: xeni@boingboing.net.
More at Boing Boing