Kindle
This post is sponsored by eBay. From the new to the hard to find, when it's on your mind, it's on eBay.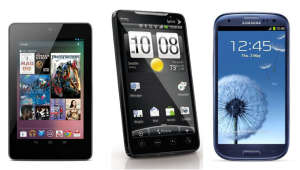 There are those who are dedicated to the fruits of Cupertino and those who, well, aren't. As we saw previously, there are plenty of Apple deals to be had at eBay. Three of the latest-and-greatest Android devices are available at discounts that may surprise you. The Samsung Galaxy S III is listed for various carriers and in both white and blue. If the S III is out of your budget, try the HTC EVO 4G at half the price. And if it's a non-iPad tablet you're after, the Google Nexus 7 won't leave you wanting. Check eBay for all your Android needs.
David Pescovitz is Boing Boing's co-editor/managing partner. He's also a research director at Institute for the Future. On Instagram, he's @pesco.
More at Boing Boing