Kindle

Last month I asked my friends to write about books they loved (you can read all the essays here). This month, I invited them to write about their favorite graphic novels, and they selected some excellent titles. I hope you enjoy them! (Read all the Great Graphic Novel essays here.) -- Mark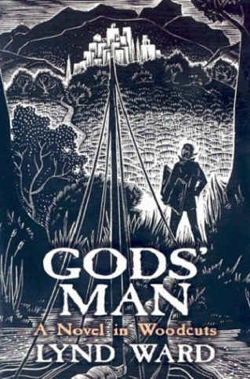 My first experience of what I would call a graphic novel was this strange hardcover book I found when I was a kid on a sleepover. I couldn't sleep because I was allergic to the cats that kept climbing on top of me in the bed, so I went into the living room and started looking at their books. And I found a volume like nothing I had ever seen: an old, hardcover book with no words. It was the 1929 edition of a "novel in woodcuts" called Gods' Man, by Lynd Ward.
At first I thought it was a collection of pictures, until I began at the beginning and realized it was meant to be a story. I don't remember the plot so very well -- something about an artist fighting against internal, external, and metaphysical obstacles. But it impacted me in the epic way some other visual work of the early 1900's hit me, such as Metropolis or the big Napoleon movie. Or even some sort of Kurt Weill opera. Or Ibsen's Peer Gynt.
It's a hundred or so prints in thick black and white, and I didn't consider it a comic at the time -- just some strange artifact of an art form that no one else pursued. And only now does the graphic novel world seem developed enough to experiment with wordless, operatic narratives like this.
God's Man, by Lynd Ward
Winner of the Media Ecology Association's first Neil Postman award for Career Achievement in Public Intellectual Activity, Douglas Rushkoff is an author, teacher, and documentarian who focuses on the ways people, cultures, and institutions create, share, and influence each other's values. He is technology and media commentator for CNN, and has taught and lectured around the world about media, technology, culture and economics. His new book, Program or Be Programmed: Ten Commands for a Digital Age, a followup to his Frontline documentary, Digital Nation. His last book, an analysis of the corporate spectacle called Life Inc., was also made into a short, award-winning film.
More at Boing Boing