Kindle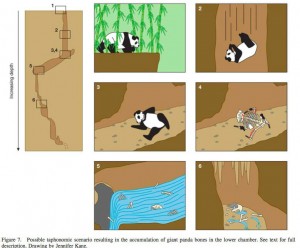 I'm not sure even Chris Ware could have done it any better.
In context, this illustration comes from a recently published paleobiology paper examining a cache of animal bones and pottery found in a sinkhole near China's Jiangdong Mountain.
One of the key things the researchers are taking away from this site: The range of the Giant Panda must have once been a lot larger than it is today.
Here's a link to the paper (which is behind a pay wall)
Via Ed Yong
Maggie Koerth-Baker is the science editor at BoingBoing.net. She writes a monthly column for The New York Times Magazine and is the author of Before the Lights Go Out
, a book about electricity, infrastructure, and the future of energy. You can find Maggie on Twitter and Facebook.
Maggie goes places and talks to people. Find out where she'll be speaking next.
More at Boing Boing