Kindle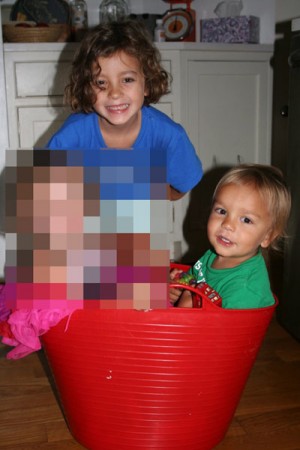 Two of the three children of CNBC Digital senior vice president Kevin Krim and Marina Krim, a mom who maintained a blog about their family life, were apparently stabbed to death by their nanny last night in NYC.
Nanny Yoselyn Ortega (50) is accused of attacking Lulu (6) and Leo Krim (2), shown in the family photo at left; then trying to kill herself.
The details of how the mother (38) encountered her children are in the NYT story, CNN, and the tabloids. A third child was with Mrs. Krim when the attack happened at their home, and did not witness it.
From posts on the family blog [update: which is now offline] the nanny appears to have worked with the family for more than a year.
The Krim family visited Ms. Ortega's home and family in the Dominican Republic with her on a 9-day vacation this February.
The family LiveJournal contains thousands of photographs of the children, whose lives were chronicled there in loving detail by their mom. Marina Krim published an entry about her son just three hours before the attack.
Leo speaks in the most adorable way possible. Firstly, he speaks super clearly, so you can understand every word is he is saying. And he does things like, "(I) want a fresh bagel" and "Dito (what he calls himself) wants cold milk" and most adorable of all, "No thank you" - he never uses "No" alone, it's always paired with "thank you".
Overnight, the post filled with about a thousand comments from strangers who'd read the news.
Mr. Krim held positions formerly with Yahoo, Bloomberg, and LiveJournal. The family relocated from SF to NY 3 years ago.
He was flying home to his family from a business trip to San Francisco when the killings happened. He was met at the gate by police, who escorted him to the hospital where paramedics tried to revive his children.
It makes no sense.
The shock and horror of this news hit close to home for young, NYC-based professionals whose lifestyles require them to entrust their kids to the care of a helper sometimes, like the Krims did.
The Krim family are known and loved by various Boing Boing readers who work in the technology industry in New York and San Francisco, some of whom pinged me when this story broke last night.
Tweets from some friends of the family, below.
lulu krim

— Scott Heiferman (@heif) October 26, 2012
@heif just tears in my eyes. Remember Kevin proudly showing off his newborn like it was yesterday.

— Anil Dash (@anildash) October 26, 2012
@xeni Xeni, Kevin is an old friend—I'm in shock, so many are in shock right now. Good people. Darling child I'd met, murdered.

— nina alter (@ninavizz) October 26, 2012
@xeni They really are that nice and good, though. No airs, no pretension, the exact opposite. Everything described in the news—just, numbing

— nina alter (@ninavizz) October 26, 2012
Boing Boing editor/partner and tech culture journalist Xeni Jardin hosts and produces Boing Boing's in-flight TV channel on Virgin America airlines (#10 on the dial), and writes about living with breast cancer. Diagnosed in 2011. @xeni on Twitter. email: xeni@boingboing.net.
More at Boing Boing