Kindle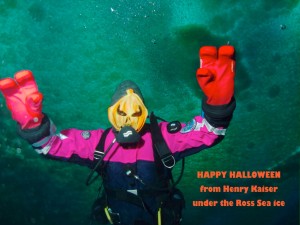 Henry Kaiser is kind of our man on the inside in Antarctica. He works there every year as a film maker, turning science into movies. He sent this awesome Halloween greeting from underneath the sea ice.
Bonus: He also sent us a video taken at the same spot — only this has 100% fewer wacky masks and 100% more sea anemones.
Thanks Henry!
Maggie Koerth-Baker is the science editor at BoingBoing.net. She writes a monthly column for The New York Times Magazine and is the author of Before the Lights Go Out
, a book about electricity, infrastructure, and the future of energy. You can find Maggie on Twitter and Facebook.
Maggie goes places and talks to people. Find out where she'll be speaking next.
More at Boing Boing