Kindle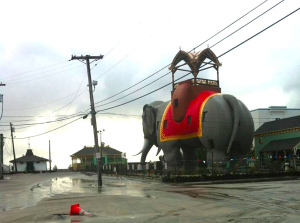 BB pal Todd Lappin reports:
Last night, tropical story Sandy made landfall approximately 5 miles southwest of Atlantic City, NJ. That means Sandy came ashore in Margate, NJ, on the exact site of Lucy the Elephant -- a charming 19th century house built in the shape of a gigantic circus elephant. Lucy has survived the ravages of time for more than 120 years, but she sits just a block off the beach in Margate, so things did not look good for the old girl when Sandy struck. This morning, however, Patrick Armstrong took a photo of the site which revealed that Lucy the Elephant survived — and more or less intact. Incredible.
David Pescovitz is Boing Boing's co-editor/managing partner. He's also a research director at Institute for the Future. On Instagram, he's @pesco.
More at Boing Boing