Kindle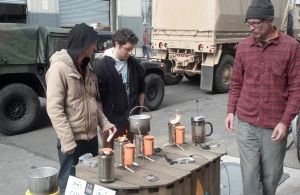 The other day in Brooklyn,
BioLite
set up a mobile phone charging station using their wood stoves that double as thermoelectric generators. John Del Signore snapped this photo for Gothamist. "
Oh, Just Brooklyn Survivalists Charging Cell Phones With Camp Stoves As The National Guard Rolls By
"
(Thanks, Anthony Townsend!)
David Pescovitz is Boing Boing's co-editor/managing partner. He's also a research director at Institute for the Future. On Instagram, he's @pesco.
More at Boing Boing