Kindle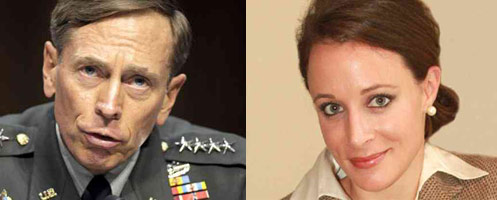 David H. Petraeus, the head of America's Central Intelligence Agency, resigned just days after the election after issuing a statement saying he had engaged in an extramarital affair.
"By acknowleding an extramarital affair, Mr. Petraeus, 60, was confronting a sensitive issue for a spy chief," reports the New York Times. "Intelligence agencies are often concerned about the possibility that agents who engage in such behavior could be blackmailed for information."
In an email to Wired's national security blog Danger Room, a former confidant says of the disgraced general, "He feels that he screwed up. He did a dishonorable thing and needed to try to do the honorable thing." The source says the affair began after Petraeus retired from the military and became CIA director. Petraeus is a retired four-star U.S. Army general, and was once considered a possible presidential candidate. He has been married to Holly Petraeus, an assistant director of the U.S. Consumer Financial Protection Bureau, for 37 years.
Paula Broadwell, the author of Petraeus' biography, "All In," is now under investigation by the FBI: her role gave her access to his email, and to the the general in person in Afghanistan.
Petraeus was due to testify in Washington about Benghazi next week. Some are questioning the timing of his resignation, believing that it is political in nature: did the White House stall the bad news until the election was won? Is there a Libya connection?
The woman with whom he had the affair has not been identified. Update: The woman with whom he had the affair has been identified as the aforementioned biographer Paula Broadwell, who was, uh, embedded with him in Afghanistan.
Greg Miller, intelligence reporter for the Washington Post, tweets: "Officials confirm Petraeus affair surfaced during FBI probe of his email. He called [National Security Advisor Thomas] Donilon Thursday asking for time with the president."
Just last week, the Daily Beast published an excerpt from Broadwell's book. The excerpt was titled, "General David Petraeus's Rules for Living." Among those rules:
We all will make mistakes. The key is to recognize them and admit them, to learn from them, and to take off the rear­ view mirrors—drive on and avoid making them again.
Michael J. Morell, the CIA's deputy director, will take over as acting director. The account at Danger Room is worth reading for a deeper look.
Ah the classic spurned lover tries to hack your email, except you're the director of the CIA, so the FBI notices, gambit.

— Joshua Hersh (@joshuahersh) November 9, 2012
It's your time to shine, conspiracy theorists!

— pourmecoffee (@pourmecoffee) November 9, 2012
"Does Don't Ask Don't Tell cover affairs?No? I am SO fucked." - Gen. Petraeus

— Kathy Griffin (@kathygriffin) November 10, 2012
I'm just saying: remember Tarok Kolache registan.net/2011/01/13/the…

— joshuafoust (@joshuafoust) November 9, 2012
.@presssec: If FBI Dir Mueller knew of the Petraeus affair before the election, why was the President informed the day after the election?

— WhiteHousePressCorps (@whpresscorps) November 10, 2012
I miss the good old days, when CIA directors just fucked America.

— Andy Borowitz (@BorowitzReport) November 10, 2012
All right, everyone making "All In" jokes. That'll do.

— allisonkilkenny (@allisonkilkenny) November 10, 2012
Droning & torturing innocent ppl is no good reason for resignation. Having an affair is. #Petraeus.

— Maher Arar (@ArarMaher) November 10, 2012
Boing Boing editor/partner and tech culture journalist Xeni Jardin hosts and produces Boing Boing's in-flight TV channel on Virgin America airlines (#10 on the dial), and writes about living with breast cancer. Diagnosed in 2011. @xeni on Twitter. email: xeni@boingboing.net.
More at Boing Boing