Kindle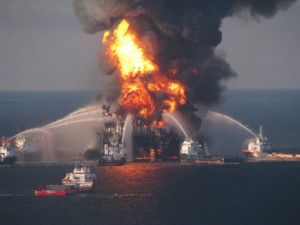 British oil company BP today announced it will pay $4.5 billion "in fines and other payments to the government," and plead guilty to 14 criminal charges resulting from the giant oil spill in the Gulf of Mexico two years ago. How much of that do you imagine will make it to the poor and working-class families whose homes, bodies, and lives were damaged or destroyed by the toxic disaster?
Here is BP's statement. Coverage here in the New York Times, and here in the LA Times.
Via @meghangordon, an interesting footnote: The National Academy of Sciences gets $350 million of the BP settlement to study human health and environmental protection in the Gulf of Mexico.
Boing Boing's BP spill archives are here.
Image, via NYT: The explosion on the Deepwater Horizon drilling rig in the Gulf of Mexico that was connected to a well owned by BP killed 11 workers and spilled millions of barrels of oil. (photo: US Coast Guard)
Boing Boing editor/partner and tech culture journalist Xeni Jardin hosts and produces Boing Boing's in-flight TV channel on Virgin America airlines (#10 on the dial), and writes about living with breast cancer. Diagnosed in 2011. @xeni on Twitter. email: xeni@boingboing.net.
More at Boing Boing