Kindle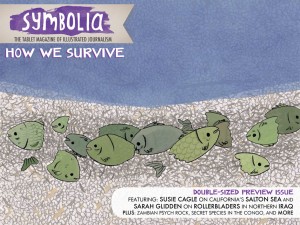 Illustrator-journalist Susie Cagle shares news about a new tablet magazine of comics journalism, Symbolia, that launches Monday, Dec. 3, and includes some of Cagle's own excellent work. Symbolia editor Erin Polgreen explains,
Graphic novel-style investigative journalism now has a home and its name is Symbolia. This Mon. 12/3, the premier, double-length edition of Symbolia will be available for the iPad in the App Store. The first edition includes work by Susie Cagle, Sarah Glidden, Andy Warner, and more, and will be available next week for free. Symbolia subscriptions cost $11.99 for a six editions over the next year, or $2.99 for a single issue. Each issue of Symbolia is packed with ground-breaking, insightful stories by world-class illustrators and journalists, plus stunning info-graphics, video reports, exclusive audio, and more.
Check 'em out
. There's a PDF edition too.
Boing Boing editor/partner and tech culture journalist Xeni Jardin hosts and produces Boing Boing's in-flight TV channel on Virgin America airlines (#10 on the dial), and writes about living with breast cancer. Diagnosed in 2011. @xeni on Twitter. email: xeni@boingboing.net.
More at Boing Boing