Kindle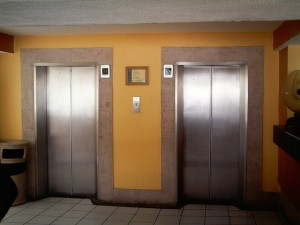 Making a high-quality elevator isn't just about designing something that can safely go from one floor to another. Elevators are service items. That means that when you design an elevator, you also have to design for people — both individual desires and needs, and the desires and needs of a variety of cultures.
If engineering is really about designing socio-technical systems, then elevators are big, fat, obvious reminder of that dynamic in play. In a profile written for the Wall Street Journal, author Kate Linebaugh describes the work of Theresa Christy, a mathematician and Otis Elevator research fellow.
You press a button and wait for your elevator. How long before you get impatient and agitated? Theresa Christy says 20 seconds.

As a mathematician steeped in the theories of vertical transportation at Otis Elevator Co., Ms. Christy, 55, has spent a quarter-century developing systems that make elevators run as perfectly as possible—which means getting most riders into a car in less than 20 seconds. "Traditionally, the wait time is the most important factor," she says. "The thing people hate the most is waiting."

... The challenges she deals with depend on the place. At a hotel in the holy city of Mecca in Saudi Arabia, she has to make sure that the elevators can clear a building quickly enough to get most people out five times a day for prayer.
Read the full story at The Wall Street Journal
Image: Elevator, a Creative Commons Attribution (2.0) image from 25103209@N06's photostream
Maggie Koerth-Baker is the science editor at BoingBoing.net. She writes a monthly column for The New York Times Magazine and is the author of Before the Lights Go Out
, a book about electricity, infrastructure, and the future of energy. You can find Maggie on Twitter and Facebook.
Maggie goes places and talks to people. Find out where she'll be speaking next.