Kindle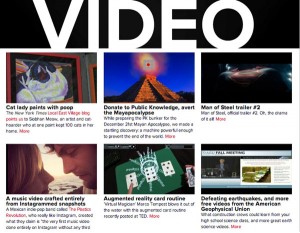 We've recently launched a new Boing Boing video page with a grid of nothin' but videos: those we make ourselves, and those we find from around the web. What's new in our video archives? Let me tell you:

• A profile of Siobhan Meow, an artist and cat-hoarder who at one point kept 100 cats in her home, and paints with poop.
• A Mexican indie-pop band created what they claim is "the very first music video done entirely on Instagram."
• Virtual Magician Marco Tempest blows it out of the water with this augmented card routine recently posted at TED
• Burrito Bomber: an open source hardware-based drone that autonomously delivers Mexican food
• Chris Carter, who handbuilt instruments for Throbbing Gristle and Chris & Cosey, talks about DIY synthesizers.
• A homemade Syrian rebel tank whose main gun is directed with an off-brand video-game thumbstick/gamepad controller.
• A freshwater catfish stalks pigeons and beaches itself in order to gobble them up.
• "Lady Life Guards," an "oddly racy newsreel" made around 1940 about female lifeguards on a beach in Brooklyn.
• The Gay Men's Chorus of Santa Monica covers Tom Lehrer's classic. Happy Chanukkah!
• DC Hardcore gods Bad Brains meet Charlie Brown and friends for a remixed heartwarming holiday classic.
• Yann Frisch, an amazing, young French magician, will boggle your mind.
Boing Boing editor/partner and tech culture journalist Xeni Jardin hosts and produces Boing Boing's in-flight TV channel on Virgin America airlines (#10 on the dial), and writes about living with breast cancer. Diagnosed in 2011. @xeni on Twitter. email: xeni@boingboing.net.
More at Boing Boing