Kindle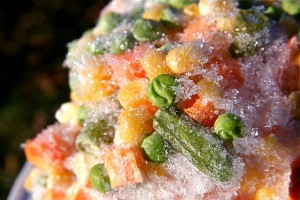 Absolute zero is supposed to be the coldest cold — 0 Kelvin, the point where atoms stop moving.
But researchers at the University of Munich say it's possible to get colder than that, an idea they've demonstrated experimentally. But what does it mean to be colder than cold? Here's the scientists' totally unhelpful explanation:
another way to look at these negative temperatures is to consider them hotter than infinity, researchers added.
Cool. Thanks, guys. Luckily, journalist Charles Q. Choi makes this strange idea make a whole lot more sense. Read his explanation at LiveScience.
Image: Frozen Peas Corn Carrots IMG_1000, a Creative Commons Attribution (2.0) image from stevendepolo's photostream
Maggie Koerth-Baker is the science editor at BoingBoing.net. She writes a monthly column for The New York Times Magazine and is the author of Before the Lights Go Out
, a book about electricity, infrastructure, and the future of energy. You can find Maggie on Twitter and Facebook.
Maggie goes places and talks to people. Find out where she'll be speaking next.
More at Boing Boing