Kindle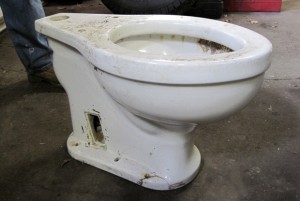 In Tablet Magazine, a most unlikely profile of Greg Kohfeldt, who ended up acquiring a little something extra when he bought Sam Carlani's auto-repair shop in Florence, N.J. almost 20 years ago: a toilet that came off of Hitler's biggest private yacht, the Aviso Grille.
Kohfeldt pointed out to me that the toilet has all the traits of a toilet from a ship—including an open side slot for seawater to be pumped in. The knobs on the faucet bear text written in Blackletter—the famous and classically German family of typefaces that Hitler adored. (The Nazis, in 1933, chased typographer Jan Tschichold out of Germany for advocating use of sans-serif fonts instead of Blackletter, among other design travesties.) The toilet has been a "functional tourist attraction" since 1952, Kohfeldt said. People would take road trips—as I had—just to see it. (Indeed, the toilet is listed in Roadside America's online guide.) But last year, the toilet finally did make it to London as Hitler intended, when a British game show—Four Rooms, a lot like a British version of Antiques Roadshow—flew Kohfeldt and the toilet out to appear on the air to be sold. Although they couldn't find a buyer, Kohfeldt said he was happy to accept the free trip and relished an opportunity to mock the Führer by taking the toilet to places Adolf only dreamed of.
Read the rest of
Alexander Aciman's piece
in
Tablet
.
(HT: David Burge)
Boing Boing editor/partner and tech culture journalist Xeni Jardin hosts and produces Boing Boing's in-flight TV channel on Virgin America airlines (#10 on the dial), and writes about living with breast cancer. Diagnosed in 2011. @xeni on Twitter. email: xeni@boingboing.net.
More at Boing Boing