Kindle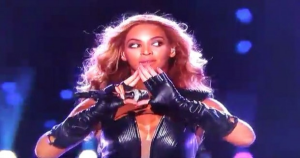 At the Super Bowl on Sunday, Beyonce flashed the Illumanti triangle and it caused the stadium lights to fail. Either that or she was referencing her husband Jay-Z's Roc-A-Fella Records "dynasty sign." I prefer the former.
"Super PAC: Yes, Beyonce's Super Bowl Halftime Performance Was the Work of the Illuminati" (Thanks, Rick Pescovitz!)
David Pescovitz is Boing Boing's co-editor/managing partner. He's also a research director at Institute for the Future. On Instagram, he's @pesco.
More at Boing Boing