Kindle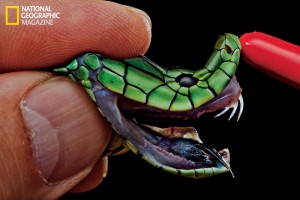 Here, scientists suck all the dignity out of a Jameson's mamba — a snake capable of killing a human in just a few, painful hours. The photo is part of a story in the February issue of National Geographic, exploring the potential medical uses of venom. There are also more photos. And you will meet cobra farmers.
© Mattias Klum /National Geographic
Maggie Koerth-Baker is the science editor at BoingBoing.net. She writes a monthly column for The New York Times Magazine and is the author of Before the Lights Go Out
, a book about electricity, infrastructure, and the future of energy. You can find Maggie on Twitter and Facebook.
Maggie goes places and talks to people. Find out where she'll be speaking next.
More at Boing Boing