Kindle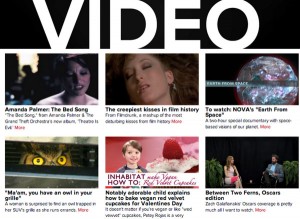 Hello, Valentine! We've hand-picked lovely videos for you to enjoy, and they're here on the Boing Boing video page. The latest finds for viewing pleasure include:

• A very sad love song by Amanda Palmer, for the day of love.
• A supercut of YouTube videos capturing goats that "talk" like humans.
• A mashup of the most disturbing kisses from film history.
• An adorable child makes adorable Valentine's Day cupcakes, adorably.
• A woman is surprised to find an owl trapped in her SUV's grille as she runs errands.
• Marco Rubio's dry mouth moments.
• A romantic animated short in which walrus is not looking for his bukkit, but for true love.
Boing Boing editor/partner and tech culture journalist Xeni Jardin hosts and produces Boing Boing's in-flight TV channel on Virgin America airlines (#10 on the dial), and writes about living with breast cancer. Diagnosed in 2011. @xeni on Twitter. email: xeni@boingboing.net.
More at Boing Boing