Kindle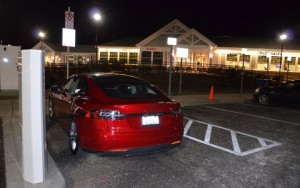 New York Times public editor
Margaret Sullivan on the controversy
over John M. Broder's NYT review of the Tesla S, which upset Elon Musk and many fans of his electric vehicles:
"I do not believe Mr. Broder hoped the drive would end badly. I am convinced that he took on the test drive in good faith, and told the story as he experienced it. Did he use good judgment along the way? Not especially."
One detail Sullivan didn't address is something of a well-kept secret in tech journalism: Musk is a genius, a highly successful serial entrepreneur, and indisputably an important figure doing great things. But he also has a nasty habit of busting the balls of reporters who are acting in good faith, when the reporting they produce includes any criticism of SpaceX or Tesla.
What do you, dear readers, think of the data-drama?
(Photo: NYT)
Boing Boing editor/partner and tech culture journalist Xeni Jardin hosts and produces Boing Boing's in-flight TV channel on Virgin America airlines (#10 on the dial), and writes about living with breast cancer. Diagnosed in 2011. @xeni on Twitter. email: xeni@boingboing.net.
More at Boing Boing