Kindle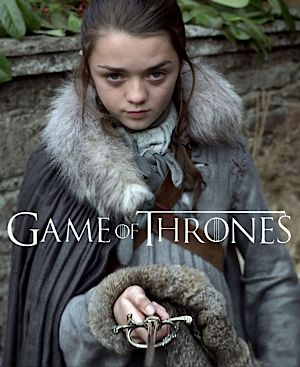 My 9-year-old daughter is an avid World of Warcraft player, and enjoys reading Dungeons and Dragons manuals (We are joining a twice-monthly game that my friend is setting up). So it's no surprise that whenever she hears my wife and I discuss Game of Thrones (which we do a lot), her ears perk up. She wants to know everything about Arya Stark, the young female sword fighter. She begs us to let her watch the show. I wish she could watch it, too, but I don't want her to see the sex and nudity scenes. (I don't really mind her seeing the violent scenes.)
Out of curiosity, I searched Google for "censored game of thrones" and discovered that there are quite a few versions of Game of Thrones in which the sex and nudity scenes have been removed. The first search result is for censored GoT seasons 1 and 2 on the Pirate Bay. The person who uploaded them wrote:
Yep, you read it right. This is Game of Thrones censored. What does this mean?

-All of the nudity has been removed, some extreme swearing removed, and some other small things.

Don't worry, it has been done in a way that that will preserve the story. If a sex scene had anything important to the story in the dialogue, the dialogue was preserved without the nudity.

Why would someone want this?

-You don't want to watch a show with borderline pornography.

-You've seen it, but want to watch it with family, or a friend who would disapprove of the nudity and sex.

Enjoy!
I have not downloaded it these, even though I'm a paying HBO subscriber. I wish HBO would release a nudity-free version. I'd buy it in a minute.
UPDATE:
My friend Peter Bebergal (author of the terrific book
Too Much to Dream: A Psychedelic American Boyhood
) emailed me about this post. He wrote:
Just looking at the comments on your Games of Thrones post. I kind of wish we were having the Gweek chat after this.

But yes, it's a complicated issue and I appreciate you being honest about it. I lean towards your feelings and I think it does have a lot to do with what is easily perceived as fantasy (outlandish violence) and what is easily perceived as not (rape, sexual bargaining, sexual power and abuse, etc.)
Well said, Peter. This is why I feel the way I do about the violence vs sex and nudity in GoT.