Kindle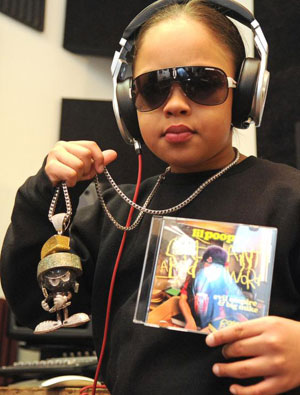 "
Lil Poopy
" is a 9 year old rapper from Massachussetts
whose videos
include sexually suggestive content, and lulzy references to the use of cocaine. He has performed with P. Diddy, and his dad says he rakes in $7,500 per show.
After an article about him in The Enterprise brought attention to the age-inappropriate content of his music videos, which include slapping adult women's buttocks and singing "coke ain't a bad word," police have asked state child welfare authorities to look into whether child welfare standards are being broken in his parenting.
(Image: Emily J. Reynolds/The Enterprise)
Boing Boing editor/partner and tech culture journalist Xeni Jardin hosts and produces Boing Boing's in-flight TV channel on Virgin America airlines (#10 on the dial), and writes about living with breast cancer. Diagnosed in 2011. @xeni on Twitter. email: xeni@boingboing.net.
More at Boing Boing