Kindle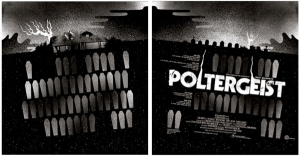 Poltergeist (1982) was the first movie I ever rented on videotape and it's, well, haunted me ever since. Jerry Goldsmith composed the score, including the sweetly nightmarish "Carol Anne's Theme" you can hear at right. He was nominated for an Academy Award but lost out to John Williams for E.T. the Extra-Terrestrial. I'm thrilled that Mondo has just reissued the Poltergeist soundtrack on vinyl, in a spooky sleeve illustrated and designed by We Buy Your Kids. This remastered recording is pressed on two slabs of 180 gram vinyl. If you're lucky, one of those records may be a super-limited "ghastly" clear vinyl pressing! "
Poltergeist Original Soundtrack 2X LP
"
Read more in Music at Boing Boing
David Pescovitz is Boing Boing's co-editor/managing partner. He's also a research director at Institute for the Future. On Instagram, he's @pesco.
More at Boing Boing