Kindle
Tonight, I got to meet Martyn Poliakoff — the fabulously frizzy-haired University of Nottingham chemist who you might recognize from a series of awesome videos about the periodic table that Xeni first blogged about back in 2008.
This is his business card.
It's a microscope image of the world's tiniest periodic table, which Poliakoff's friends inscribed on a strand of his own hair as a birthday gift in 2010. The hair, which Poliakoff keeps in a glass vial, has earned him a spot in The Guinness Book of World Records.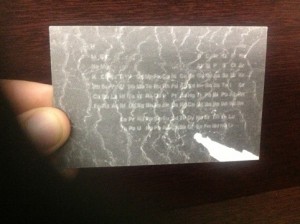 Maggie Koerth-Baker is the science editor at BoingBoing.net. She writes a monthly column for The New York Times Magazine and is the author of Before the Lights Go Out
, a book about electricity, infrastructure, and the future of energy. You can find Maggie on Twitter and Facebook.
Maggie goes places and talks to people. Find out where she'll be speaking next.
More at Boing Boing