Kindle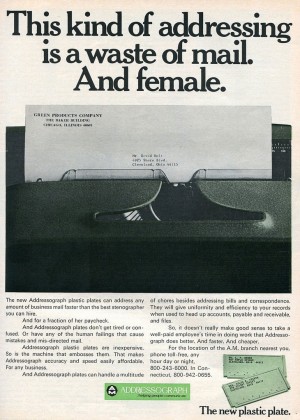 This ad was published in the year I was born, 1970. It's funny how unapologetically sexist so much marketing was, back then. These plastic plates "won't get tired or confused" like a dumb old woman always does, and they get the job done "for a fraction of her paycheck," which was of course a fraction of *your* paycheck, if you were a guy. 1970 wasn't that long ago.
From the photostream of "SenseiAlan."
Boing Boing editor/partner and tech culture journalist Xeni Jardin hosts and produces Boing Boing's in-flight TV channel on Virgin America airlines (#10 on the dial), and writes about living with breast cancer. Diagnosed in 2011. @xeni on Twitter. email: xeni@boingboing.net.
More at Boing Boing