Kindle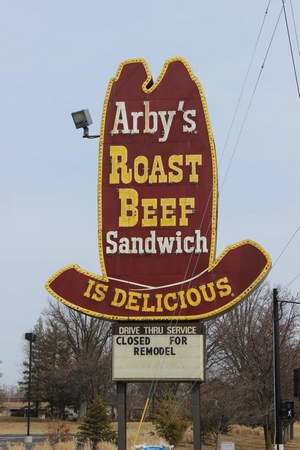 Growing up in Cincinnati, Ohio, this 1950s Arby's sign was an icon of suburban life (before suburbia meant the former farmlands 40 minutes out from downtown.) In fact, just seeing this photo makes me hanker for a Beef'n Cheddar and Potato Cake (More specifically, the 1970s versions of those items. No Horsey Sauce though.) Sadly, the classic sign is in jeopardy. The Finneytown location where the sign stands tall is closed for remodeling and rebranding and the sign is slated for demolition. Community calls to Arby's resulted in the company offering to donate the sign to Cincinnati's excellent American Sign Museum. Once it's disassembled though, the Sign Museum still needs financial help to transport, repair, and install the sign at its new home.
"Support to Save the Finneytown Arby's Sign Grows" (Thanks, Charles Pescovitz!)
David Pescovitz is Boing Boing's co-editor/managing partner. He's also a research director at Institute for the Future. On Instagram, he's @pesco.
More at Boing Boing