Kindle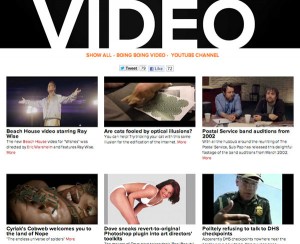 We've gathered fresh video for you to surf and enjoy on the Boing Boing video page. The latest finds for your viewing pleasure include:

• Beach House video for "Wishes" directed by Eric Wareheim featuring Ray Wise.
• Are cats fooled by optical illusions?
• Postal Service band auditions from 2002.
• Cyriak's Cobweb welcomes you to the land of Nope.
• Politely refusing to talk to DHS checkpoints.
• Vortex smoke rings created with 3D printed wings.
• The makers of Dove have taken their 'Real Beauty' campaign against P-shopped models into the realm of hacktivism.
Boing Boing editor/partner and tech culture journalist Xeni Jardin hosts and produces Boing Boing's in-flight TV channel on Virgin America airlines (#10 on the dial), and writes about living with breast cancer. Diagnosed in 2011. @xeni on Twitter. email: xeni@boingboing.net.
More at Boing Boing