Kindle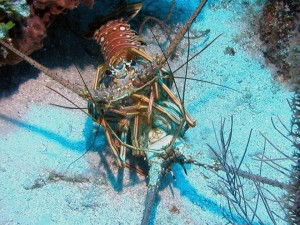 From the Florida Keys National Marine Sanctuary Facebook page, here are two lobsters doing it — apparently in the missionary position.
But looks can be misleading. What's actually going on here is external fertilization — that is to say, procreation without any of the potentially awkward penetration. Male lobsters produce spermatophores, packets of sperm, which they attach to the female's sternum. That's what you see happening here, according to the Sanctuary. Later, the female will use that sperm to fertilize her eggs.
Thanks to David Shiffman and Carin Bondar!
Maggie Koerth-Baker is the science editor at BoingBoing.net. She writes a monthly column for The New York Times Magazine and is the author of Before the Lights Go Out
, a book about electricity, infrastructure, and the future of energy. You can find Maggie on Twitter and Facebook.
Maggie goes places and talks to people. Find out where she'll be speaking next.
More at Boing Boing