Kindle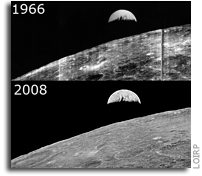 The
Lunar Orbiter Image Recovery Project
, which seeks to convert and preserve priceless lunar mission data from old analog media for future space nerds, has just a few hours left to reach its goal.
Previous BB post here
with video, and Maggie
has more here
. As tweeted by William Shatner! Yes,
people will write checks to explore space
. You can
donate here
, for a few more hours.
My friend @xeni shared a great story about some NASA footage that was thought lost. Kudos to Wingo & Cowing. MBB tinyurl.com/lunarorbiter

— William Shatner (@WilliamShatner) March 15, 2013
Boing Boing editor/partner and tech culture journalist Xeni Jardin hosts and produces Boing Boing's in-flight TV channel on Virgin America airlines (#10 on the dial), and writes about living with breast cancer. Diagnosed in 2011. @xeni on Twitter. email: xeni@boingboing.net.
More at Boing Boing