Kindle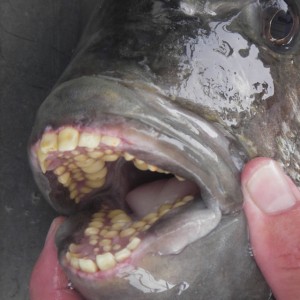 This is not a Photoshop job. This is the very real toothy smile of sheepshead fish. It lives in North America, writes Becky Crew at the Running Ponies blog. And, like humans, it has both incisors and molars — perfect for masticating an omnivorous diet. Apparently, they also taste good, which should be some consolation. Worse comes to worse, we can always eat them.
Maggie Koerth-Baker is the science editor at BoingBoing.net. She writes a monthly column for The New York Times Magazine and is the author of Before the Lights Go Out
, a book about electricity, infrastructure, and the future of energy. You can find Maggie on Twitter and Facebook.
Maggie goes places and talks to people. Find out where she'll be speaking next.
More at Boing Boing