Kindle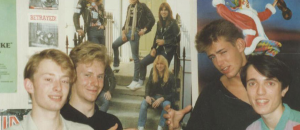 Yep, that's Thom Yorke, Phil Selway, Ed O'Brien, and Colin Greenwood in the late 1980s. Back then Johnny Greenwood wasn't yet in the band who were still called On A Friday. This photo turned up during research for a documentary Anyone Can Play Guitar, about the Oxford, England music scene that also spawned Supergrass, Swervedriver, Foals, and others.
Read more in Music at Boing Boing
David Pescovitz is Boing Boing's co-editor/managing partner. He's also a research director at Institute for the Future. On Instagram, he's @pesco.
More at Boing Boing