Kindle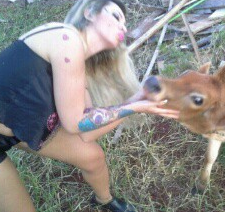 Brazilian DJ/model Sabrina Boing Boing has apparently caused quite a stir by posting Instagram photos of herself pretending to breastfeed a calf. I knew we were planning to grow our brand but I can't recall if this idea was on the whiteboard.
(Daily Dot, thanks Puce!)
David Pescovitz is Boing Boing's co-editor/managing partner. He's also a research director at Institute for the Future. On Instagram, he's @pesco.