Kindle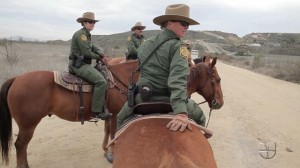 "Immigration enforcement and drug smuggling continue to be top priorities for the Department of Homeland Security, and the Border Patrol's budget has swelled accordingly, increasing from just $262,647 in 1990 to over $3.5 million dollars in the 2012 fiscal year," reports photojournalist Erin Siegal of ABC/Univision, in Mexico.
"They've added more agents, more technology, and higher fences.
But they've also got horses. "Coyotes" (human-smugglers) and narcotraffickers have moved further into mountain and desert terrain, in response to law enforcement's more aggressive patrolling of urban areas. And in remote areas, horses help.
Read the full essay (with photos) here. [ABC News]
Boing Boing editor/partner and tech culture journalist Xeni Jardin hosts and produces Boing Boing's in-flight TV channel on Virgin America airlines (#10 on the dial), and writes about living with breast cancer. Diagnosed in 2011. @xeni on Twitter. email: xeni@boingboing.net.
More at Boing Boing