Kindle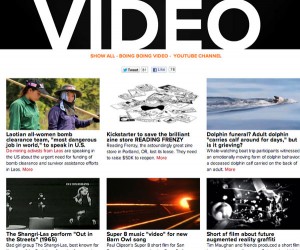 We've gathered fresh video for you to surf and enjoy on the Boing Boing video page. The latest finds for your viewing pleasure include:

• Frank Zappa reads the dirty bits of Naked Lunch.
• TIme-lapse of a particularly intense aurora borealis display.
• The Shangri-Las perform "Out in the Streets" (1965).
• Super 8 music "video" for new Barn Owl song.
• Two-headed bull shark.
• Telekinesis' latest video has a romantic ghost in the machine.
• Dolphin funeral? Adult dolphin "carries calf around for days." Grieving?
• Reading Frenzy, the astoundingly great zine store in Portland, OR, lost its lease. They need to raise $50K to reopen.
Boing Boing editor/partner and tech culture journalist Xeni Jardin hosts and produces Boing Boing's in-flight TV channel on Virgin America airlines (#10 on the dial), and writes about living with breast cancer. Diagnosed in 2011. @xeni on Twitter. email: xeni@boingboing.net.
More at Boing Boing