Kindle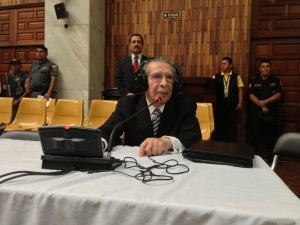 I am blogging and live-tweeting from inside the Guatemalan Supreme Court in Guatemala City this morning, on day 21 of the trial of former Guatemalan General and genocide and de factor dictator Rios Montt, and his then-head of intelligence Jose Mauricio Rodriguez Sanchez. Ríos Montt's 1982-1983 regime was supported by the United States; during this era many thousands of non-combatant civilians were killed.
Tweets by @xeni Follow this Twitter list for live tweets from the courtroom. Listen to audio here.

Yesterday morning in this court, defense attorneys for Ríos Montt and Sanchez walked out of the courtroom in protest; they'd demanded the trial to be canceled. Ríos Montt's supporters stood and cheered, while Judge Jazmin Barrios yelled "Stop! Stop!" after them, demanding security guards follow the lawyers and bring them back to the courtroom. Hours later, a shocking development, as Kate Doyle writes on the riosmontt-trial.org blog:
On the afternoon of Thursday, April 18, in an extraordinary turn of events, the genocide trial of Efraín Ríos Montt and José Rodríguez Sánchez was brought to a halt when Judge Carol Patricia Flores of a court of First Instance declared the proceedings null and invalid. Stunned prosecutors denounced the verdict and immediately began preparing to file several motions to reverse the decision. Judge Jazmín Barrios, president of the tribunal overseeing the genocide trial, announced the trial would go ahead on Friday morning despite the ruling. And by the close of the day, Attorney General Claudia Paz y Paz declared the ruling "illegal" and vowed to use every measure available to stop it.
This trial is unprecedented: it is the first time any former head of state has been tried in a domestic court for genocide and crimes against humanity.
Kate Doyle has written more here about the strong statements of concern, including from Guatemalan President Otto Perez Molina, polarizing public opinion in Guatemala around the trial. After Judge Flores' decision yesterday, one gets the sense that the polarization in the country was amplified further; there is a general sense that this is now a total political crisis.
From NISGUA's update of yesterday's dramatic events:
Judge Barrios formally filed a statement with Judge Flores in advance of her decision, reiterating that the court had appropriately complied with the letter of the Constitutional Court's ruling regarding the defense injunction, and calling for the trial to resume at 8:30 tomorrow morning.

In an atmosphere of shock, confusion, and celebration by allies of the defendants, Edgar Pérez, lawyer for the AJR, protested Judge Flores' decision, characterizing it as a grave affront to the rights of the victims stating, "Victims have waited 30 years. A fundamental right is being denied to them, the right to justice." The prosecution accused Judge Flores of illegally exceeding her authority and declared its intent to challenge Flores' decision. The public prosecutor commented, "This decision is a mockery of the victims and a mockery of justice." The Attorney General's office later reiterated the public prosecutors' protest, releasing a statement calling Flores' decision illegal.

Survivors from the AJR were shocked, saddened and later inspired to move forward in the aftermath of this decision.

There are people that are happy because they are against those of us who are demanding justice, but we the victims are many and we hope to see justice. Even though we have suffered setbacks, we have to continue forward. --AJR survivor
Photographer James Rodriguez at MiMundo.org has an excellent photo-essay here, documenting the day.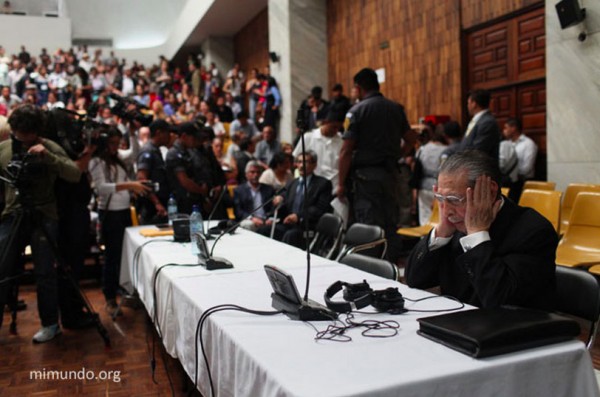 Here's a Twitter list of observers who have been diligently live-tweeting from the trial. Among them: NISGUA Guate (Network in Solidarity with the People of Guatemala), Plaza Publica, and Rios Montt Trial (a project of the Open Society Initiative).
Many observers in Guatemala who are anti-Ríos Montt, pro-civilian-victims are tweeting with the hashtag #SiHuboGenocidio. A quick search of that hashtag is an interesting glimpse into one element of the Guatemalan zeitgeist.
Boing Boing editor/partner and tech culture journalist Xeni Jardin hosts and produces Boing Boing's in-flight TV channel on Virgin America airlines (#10 on the dial), and writes about living with breast cancer. Diagnosed in 2011. @xeni on Twitter. email: xeni@boingboing.net.
More at Boing Boing