Kindle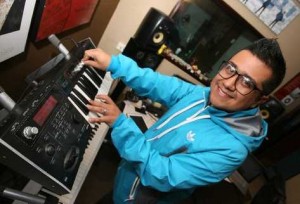 DJ Wicho Lopez is the best-known local ambassador of one of the more interesting musical genres to take root here in Guatemala of late: Moombahton, a mix of house and reggaeton and whatever else the DJ feels like throwing in. Moombahton more or less originated with DJ Dave Nada (Twitter, Tumblr, Amazon) in Washington, DC a few years ago; superproducer Diplo popularized it further.
Guatemalan news daily Prensa Libre ran a feature on Guatemala City-based DJ and producer Wicho last week, and I've been enjoying some of his work. He is the Keyboardist, Accordionists and Keytarist of "Malacates Trebol Shop" (Twitter).
Above, "Una Vaina Loca."
Below, a mixtape: "Atomic Boom Bah! (Episode 1) Basics by @WichoLopez @AtomicBoombah."
(Photo: Prensa Libre)
And for those unfamiliar with Moombahton, here are two sets from the man credited with originating the genre: Dave Nada.
Mad decent worldwide radio #37 - Dave Nada: Love In This Bmore Club by Mad Decent on Mixcloud
Read more in Music at Boing Boing
Boing Boing editor/partner and tech culture journalist Xeni Jardin hosts and produces Boing Boing's in-flight TV channel on Virgin America airlines (#10 on the dial), and writes about living with breast cancer. Diagnosed in 2011. @xeni on Twitter. email: xeni@boingboing.net.
More at Boing Boing