Kindle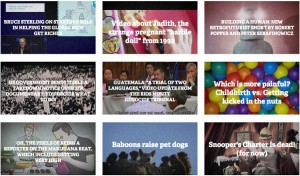 Rob gave our Boing Boing video post archives a sweet makeover this weekend, check it out! Among the most recent video posts you will find on our video page:
• Bruce Sterling on the role of startups in helping the rich get richer
• Video about Judith, the strange pregnant "barbie doll" from 1992
• A new retrofuturist short from Popper and Serafinowicz
• Which is more painful? Childbirth vs. Getting kicked in the nuts
• Marijuana reporter accidentally gets high on marijuana
• Baboons raise pet dogs
• Russian paratroopers deploy inflatable Orthodox church
Boing Boing editor/partner and tech culture journalist Xeni Jardin hosts and produces Boing Boing's in-flight TV channel on Virgin America airlines (#10 on the dial), and writes about living with breast cancer. Diagnosed in 2011. @xeni on Twitter. email: xeni@boingboing.net.
More at Boing Boing