Kindle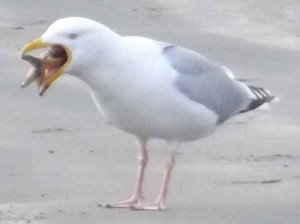 Writer Darren Naish, who blogs at Tretrapod Zoology, took this photo of a Larus gull attempting to chow down on an awkwardly shaped starfish. (And, really, are there any other kind of starfish? Especially when you're trying to fit them in your mouth whole?)
You might remember Larus gulls from a recent piece I wrote on speciation and evolution. According to Naish, they might have another place in the story of evolution, as well. Regardless of how Sisyphean this gull's dinner plans may appear, Larus gulls actually (successfully) eat a lot of starfish. So many, in fact, that, as Naish explains in a recent post, they might be prompting one species of starfish to slowly turn a different color — an adaptation that makes the species less visible to gulls.
Maggie Koerth-Baker is the science editor at BoingBoing.net. She writes a monthly column for The New York Times Magazine and is the author of Before the Lights Go Out
, a book about electricity, infrastructure, and the future of energy. You can find Maggie on Twitter and Facebook.
Maggie goes places and talks to people. Find out where she'll be speaking next.
More at Boing Boing