Kindle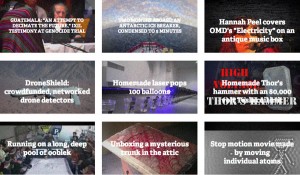 Among the most recent video posts you will find on our all-new video archive page:
• 2 months on an Antarctic icebreaker
• Hannah Peel covers OMD's "Electricity" on an antique music box
• DroneShield: crowdfunded, networked drone detectors
• Homemade laser pops 100 balloons
• Homemade Thor's hammer with an 80,000 volt Tesla coil in it
• Running on a long, deep pool of ooblek
• Unboxing a mysterious trunk in the attic
Boing Boing editor/partner and tech culture journalist Xeni Jardin hosts and produces Boing Boing's in-flight TV channel on Virgin America airlines (#10 on the dial), and writes about living with breast cancer. Diagnosed in 2011. @xeni on Twitter. email: xeni@boingboing.net.
More at Boing Boing