Kindle
[Guatemala City] On Friday, a court in Guatemala convicted former US-backed military dictator Rios Montt of genocide and crimes against humanity, in an historic trial: this was the first time a domestic court in any nation has convicted a former head of state for these crimes.
His co-defendant Jose Mauricio Rodriguez Sanchez, the head of the G-2 intelligence division under Rios Montt's 17-month regime, was absolved of all charges.
The court's full decision is due to be released today.
The powerful and conservative Guatemalan business lobby CACIF says the trial should be annulled, the judge fired, and that the verdict is dangerous for stability in Guatemala. The US Embassy in Guatemala, which has been targeted as an enemy of the Guatemalan people in a series of publications by pro-Rios Montt groups, released a statement over the weekend urging Guatemalan society to respect the verdict in the Montt trial.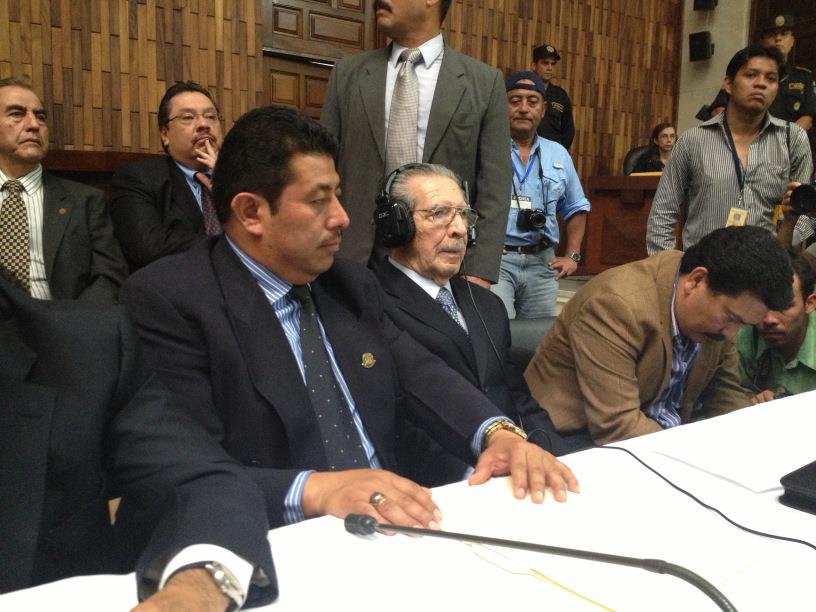 On Saturday, a group of military supporters gathered outside Guatemala City's Matamoros prison where the 86-year-old general spent his first night, in a demonstration of support for Rios Montt and the Guatemalan Army. By various estimates, there were between 30 and 50 pro-Rios Montt demonstrators present. The Associated Press erroneously reported "at least 500."
Today, the court of Judge Yassmin Barrios has just reconvened to begin a debate over the highly controversial discussion of reparations to the Ixil victims in this case. Who should pay for the theft of land, destruction of entire communities, murder, torture, forced displacement, and rape, the court will ask: The estate of Rios Montt? The government of Guatemala? And will the state issue a formal apology?
On Friday night, after the verdict, President Otto Perez Molina (who was once an Army commander in the Ixil region under Rios Montt) gave an interview on CNN en Español. The interviewer asked the Guatemalan President about his possible culpability for similar crimes. The transmission signal was cut. From El Periodico, a newspaper in Guatemala:
The interview became more uncomfortable for Perez when the interviewer questioned him about documentary American journalist Allan Nairn, in September 1982, where he declares that "all families are with the guerrillas."

At that time, the signal from Guatemala was cut and the corner had to take a break. After re-establish communication, the president said that the protected witness who identified as responsible for the massacres in Nebaj is false.
And below, one of many memes making the rounds on the Guatemalan internet. This one, created by people who believe the President's role should be questioned. He is immune from prosecution under Guatemalan law while he holds office.
Noted without comment: this meme is making the rounds on the Guatemalan Internet. via @corrupciongt twitter.com/xeni/status/33…

— Xeni Jardin (@xeni) May 11, 2013
WHAT'S NEXT:
Follow proceedings and analysis of the legal battle under way to overturn the conviction and annul the trial: NISGUA, Plaza Publica, and the OSJI's trial monitoring account are good places to start. You can follow them and others on this Twitter list. The riosmontt-trial.org site is the best source I've found for legal analysis.
PREVIOUSLY ON BOING BOING
• Guatemala coverage archives
• Rios Montt found guilty of genocide and crimes against humanity
•1983 "MacNeil/Lehrer Report" on debate over military aid
• 1982 MacNeil/Lehrer on reports Ríos Montt committed atrocities
• "I am innocent," Ríos Montt tells court in genocide trial
• Ríos Montt trial enters final phase, 75 years sought
• The science behind historic genocide trial of General Ríos Montt: PBS NewsHour video report
• Guatemalan Government declares State of Siege after Mining Protests: PBS NewsHour video report
• PBS NewsHour reporter's notebook: Guatemala—Why We Cannot Turn Away
• Waiting. Snapshots from Ríos Montt genocide trial courtroom
Boing Boing editor/partner and tech culture journalist Xeni Jardin hosts and produces Boing Boing's in-flight TV channel on Virgin America airlines (#10 on the dial), and writes about living with breast cancer. Diagnosed in 2011. @xeni on Twitter. email: xeni@boingboing.net.
More at Boing Boing