Kindle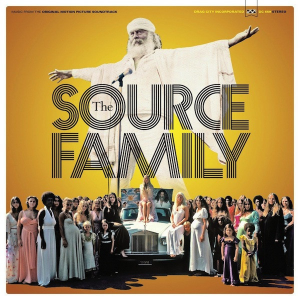 The Source Family was a radical, utopian social experiment that emerged from the Los Angeles freak scene in the 1970s. Operating out of a hip health food restaurant owned by judo master/bank robber/accused murderer Jim Baker, aka Father Yod, The Source Family was everything you could want in a post-hippie, West Coast outsider spiritual trip. And they had a rock band too! Thanks to our pal Jodi Wille and Maria Demopoulos's absolutely fantastic new documentary now in theaters about Father Yod and his "children," interest in The Source Family and their band, Ya Ho Wa 13, has never been greater. The film, titled
The Source Family: A Documentary
, was inspired by
The Source: The Story of Father Yod, Ya Ho Wa 13 and the Source Family
, written by family members Isis Aquarian and Electricity Aquarian, edited by Jodi, and published by our pals Process Media. To complete the full transmedia Source Family experience, Drag City is releasing
The Source Family soundtrack
, a collection of choice tunes from the nine albums that The Source Family recorded between 1973 and 1974. Boing Boing is pleased to premier this free stream of the entire album,
The Source Family soundtrack
, available next week on CD and, of course, vinyl. Far fucking out.
Read more in Music at Boing Boing
David Pescovitz is Boing Boing's co-editor/managing partner. He's also a research director at Institute for the Future. On Instagram, he's @pesco.
More at Boing Boing