Kindle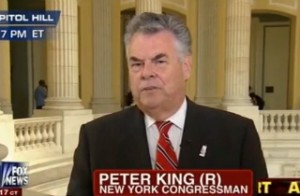 On the CNN program "AC 360" Tuesday night,
Rep. Peter King
(R-N.Y.) said reporters who publish stories that reference leaked classified information should be prosecuted by the state. That same day, King appeared on Fox News
to demand that the state prosecute Glenn Greenwald
, the journalist who broke the Edward Snowden story.
Trevor Timm at Freedom of the Press Foundation writes,
Yesterday, Rep. Peter King (R-NY) publicly called for the prosecution of Guardian journalist Glenn Greenwald for his recent reports showing that the NSA has been secretly spying on millions of Americans. Rep. King's appalling call for legal action against a reporter for doing his job is an affront to all journalists, and indeed, the First Amendment itself. Freedom of the Press Foundation condemns these comments in the harshest terms. Rep. King has a long and unfortunate history of calling for the prosecution of journalists when media organizations print something he doesn't like. Unfortunately for him, that is not how the First Amendment works.
Read the rest
.
Is is true, as I was just told, that Peter King on CNN called for criminal prosecution of journalists reporting the NSA stories?

— Glenn Greenwald (@ggreenwald) June 12, 2013
Boing Boing editor/partner and tech culture journalist Xeni Jardin hosts and produces Boing Boing's in-flight TV channel on Virgin America airlines (#10 on the dial), and writes about living with breast cancer. Diagnosed in 2011. @xeni on Twitter. email: xeni@boingboing.net.
More at Boing Boing