Kindle
Holsten's last night. Place packed. But the owner reserved "Tony's" table. Sweet. #gandolfini #thesopranos. pic.twitter.com/x3Z7vohkZm

— John Klekamp (@JKlekamp) June 20, 2013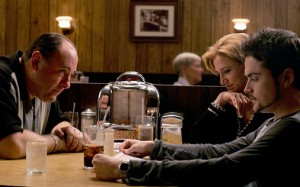 This photograph shot by News 12 New Jersey reporter John Klekamp (@JKlekamp) went viral last night, the night the world learned that actor James Gandolfini died.
Gandolfini was best known for his role as "Tony Soprano," on the HBO series "The Sopranos." The final scene in the series (a rip is below) was filmed here, at Holsten's Ice Cream Shop in NJ. The AP has more photos.
The Hollywood Reporter reports today that HBO is paying tribute to Gandolfini by airing the following message in telecasts: "HBO mourns the loss of James Gandolfini, a beloved member of the HBO family."
Brad Grey, the show's executive and now chairman and CEO of Paramount Pictures, praised the actor in a statement.
"Jimmy was one of the most talented, authentic and vulnerable actors of our time," he said. "He was unorthodox and truly special in so many ways. He had the sex appeal of Steve McQueen or Brando in his prime as well as the comedic genius of Jackie Gleason. I'm proud to have been his friend and grateful for the extraordinary years I was lucky enough to work with him. My heart and support goes out to his wonderful and loving family."
Boing Boing editor/partner and tech culture journalist Xeni Jardin hosts and produces Boing Boing's in-flight TV channel on Virgin America airlines (#10 on the dial), and writes about living with breast cancer. Diagnosed in 2011. @xeni on Twitter. email: xeni@boingboing.net.
More at Boing Boing