Kindle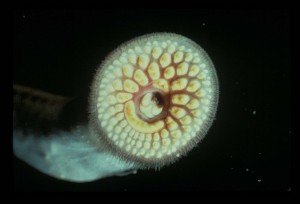 New research shows that male sea lampreys (that's a sea lamprey mouth pictured above) entice females into reproduction with the help of a special bump of tissue. No, not that. Get your mind out of the gutter. The lamprey's "rope tissue" is fascinating, writes Science Codex, because it's made of heat-generating fat cells similar to the kind found on mammals that maintain their own internal body temps — something the lamprey can't do.
Image: Sea Lamprey Mouth, a Creative Commons Attribution (2.0) image from usfwspacific's photostream
Maggie Koerth-Baker is the science editor at BoingBoing.net. She writes a monthly column for The New York Times Magazine and is the author of Before the Lights Go Out
, a book about electricity, infrastructure, and the future of energy. You can find Maggie on Twitter and Facebook.
Maggie goes places and talks to people. Find out where she'll be speaking next.
More at Boing Boing