Kindle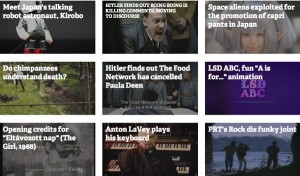 Among the most recent video posts you and the NSA will find on our video archive page:

• Hitler finds out about Boing Boing killing comments
• Space aliens exploited for the promotion of capri pants in Japan
• Do chimpanzees understand death?
• Hitler finds out The Food Network has cancelled Paula Deen
• LSD ABC's
• Meet Japan's talking robot astronaut, Kirobo
• Egyptian statue filmed inexplicably rotating
• Anton LaVey plays his keyboard
• Bigfoot by K-tel
• The psychedelic sounds of guitar god Jonathan Wilson

Boing Boing editor/partner and tech culture journalist Xeni Jardin hosts and produces Boing Boing's in-flight TV channel on Virgin America airlines (#10 on the dial), and writes about living with breast cancer. Diagnosed in 2011. @xeni on Twitter. email: xeni@boingboing.net.
More at Boing Boing