Kindle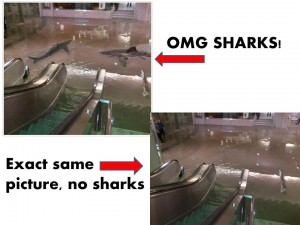 This is an older piece, but given that we're into hurricane season, I expect it will come up again. How do you tell if the photo you've been forwarded, showing sharks swimming through flooded urban landscapes, is real or fake? Marine biologist (and shark expert) David Shiffman has a simple 5-step process. In fact, it's so simple that I'm sure many of you will already be familiar with these tricks. But, here's the thing, it's helpful to be reminded that the tricks are necessary. They're very easy to forget when a hurricane is crashing into shore and social media is blowing up. Besides which, this will make a handy link to forward to friends and family passing questionable photos of all sorts.
Maggie Koerth-Baker is the science editor at BoingBoing.net. She writes a monthly column for The New York Times Magazine and is the author of Before the Lights Go Out
, a book about electricity, infrastructure, and the future of energy. You can find Maggie on Twitter and Facebook.
Maggie goes places and talks to people. Find out where she'll be speaking next.
More at Boing Boing