Kindle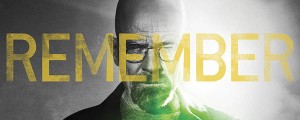 Click to view the complete image.
AMC today released the poster for the final 8 episodes of Breaking Bad. Walter White (Bryan Cranston) stands in the Albuquerque desert with the tagline "Remember My Name" printed over his body. The final episodes will air beginning Sunday, Aug. 11 at 9/8c on AMC. I can't wait!
Catch up on previous seasons in the series: Season 1, Season 2, Season 3, Season 4, Season 5.
Boing Boing editor/partner and tech culture journalist Xeni Jardin hosts and produces Boing Boing's in-flight TV channel on Virgin America airlines (#10 on the dial), and writes about living with breast cancer. Diagnosed in 2011. @xeni on Twitter. email: xeni@boingboing.net.
More at Boing Boing